Are you looking to expand your income stream? Have you considered using an affiliate program but don't know where to begin? This review is for you.
Here, we'll give a detailed breakdown of the best food affiliate programs to help you decide which ones suit you best.
Keep an open mind as you read on.
Eat Your Coffee Food Affiliate Program
The Eat Your Coffee is one of the Best Food Affiliate Programs for marketing initiative offered by Eat Your Coffee, a company that specializes in creating natural, caffeinated snacks.
The program allows individuals or businesses to earn a commission by promoting Eat Your Coffee products through their own platforms, such as websites, blogs, or social media channels.
Affiliates who join the program receive a unique referral link or code, which they can share with their audience.
When someone clicks on the link or uses the code to make a purchase on the Eat Your Coffee website, the affiliate earns a commission on that sale.
The program provides affiliates with various resources and tools to support their promotional efforts, including access to product images, banners, and marketing materials.
Also, as an affiliate, you'll receive regular updates on new product releases, promotions, and exclusive offers to enhance your marketing campaigns.
Eat Your Coffee offers a competitive commission rate to affiliates and provides reliable tracking and reporting systems to ensure accurate commission attribution.
Payments are made on a monthly basis, allowing affiliates to earn passive income by promoting Eat Your Coffee products.
The ButcherBox Food affiliate program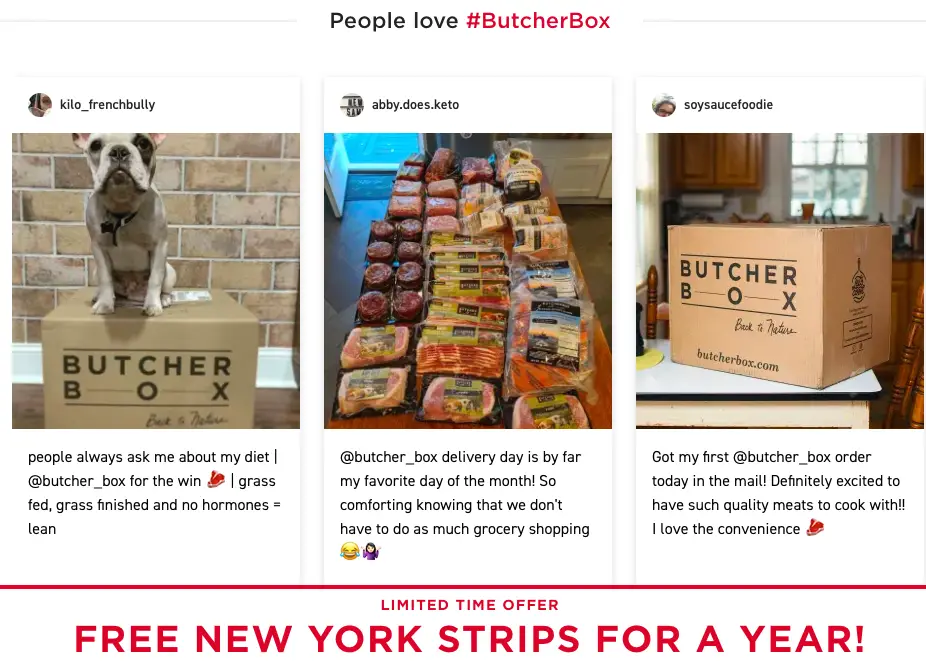 This is also one of the best food affiliate programs offered by ButcherBox, a meat subscription service.
As an affiliate, you can earn a commission by promoting ButcherBox and referring customers to their website.
The program works by providing you with unique affiliate links or promo codes that you can share with your audience through various channels such as your website, blog, social media platforms, or email newsletters.
When someone clicks on your affiliate link or uses your promo code to make a purchase on ButcherBox's website, you earn a commission on that sale.
The commission structure and rates may vary depending on the specific terms of the ButcherBox affiliate program.
Typically, commissions are based on a percentage of the referred sale, and you may also have the opportunity to earn additional bonuses or incentives based on your performance.
To participate in the ButcherBox affiliate program, you would need to apply and be approved as an affiliate.
Once approved, you would gain access to the necessary affiliate tools, resources, and tracking systems to monitor your referrals and earnings.
If you're interested in becoming a ButcherBox affiliate, we recommend visiting their official website and looking for information on their affiliate program.
The program details, requirements, and application process can usually be found on their website's affiliate or partner page.
Sur la Table Food affiliate program
Sur la Table, the culinary wonderland where foodies go to get their fix, has cooked up a sizzling affiliate program that's sure to whet your appetite for some serious commissions.
If you've got a knack for promoting kitchen gadgets, cookware, and all things gourmet, this food affiliate program might just be the perfect recipe for your success.
Imagine being able to share your love for all things culinary and earn some dough while you're at it.
With Sur la Table food affiliate programs, you can turn your passion for cooking into some serious cash.
It's like having your cake and eating it too but with a little extra frosting in the form of affiliate commissions.
So, what's on the menu?
Well, as an affiliate, you'll have access to a smorgasbord of high-quality kitchen products that will make any chef's heart skip a beat.
From shiny stainless steel pots and pans to cutting-edge kitchen gadgets that would make James Bond jealous, Sur la Table has it all.
And let's not forget their fabulous selection of gourmet ingredients and foodie-friendly accessories.
But it's not just about the products, my friend.
Sur la Table knows that presentation is everything, and that's why they've cooked up a deliciously tempting affiliate program.
They offer competitive commission rates that will make your taste buds tingle with excitement.
With each sale you generate through your affiliate links, you'll earn a tasty commission that will have you reaching for seconds.
And don't worry, Sur la Table has all the tools you need to whip up a successful affiliate campaign.
They provide you with a variety of eye-catching banners and text links that will make your website look as delicious as a perfectly plated dish.
Plus, their tracking system is so precise, it could probably measure the exact number of sprinkles on a cupcake.
But wait, there's more! Sur la Table knows that successful affiliates deserve to be treated like VIPs.
That's why they have a dedicated affiliate support team that's ready to assist you with any questions or concerns.
They're like your personal sous chef, helping you create a delectable affiliate strategy that will have customers lining up at the virtual checkout.
So, if you're a foodie with a flair for affiliate marketing, Sur la Table's affiliate program is the perfect place to showcase your skills.
It's a recipe for success.
NatureBox Food affiliate program
NatureBox's food affiliate program is like a delicious snack mix for savvy marketers.
It's a scrumptious opportunity to earn some dough while promoting a healthy and tasty snacking revolution.
Imagine being the trailblazer who introduces others to NatureBox's fantastic assortment of wholesome snacks.
You'll be like the Indiana Jones of the snacking world, except instead of searching for ancient artifacts, you'll be uncovering a treasure trove of nutritious treats.
With NatureBox food affiliate programs, you become a snacking connoisseur, spreading the word about their drool-worthy snacks and earning some extra cheddar while you're at it.
It's a win-win situation:
You satisfy your taste buds and your wallet simultaneously.
NatureBox offers an array of snacks that are both tantalizing and nutritious, making them the superhero of the snacking universe.
From crunchy granola bars to delectable dried fruits, they've got something for every palate.
They even have snacks that can make a kale-lover out of the most die-hard potato chip enthusiast.
As an affiliate, you get to indulge in the delightful task of sharing NatureBox's goodies with your audience.
Whether you're a food blogger, health enthusiast, or just a passionate snacker, you can earn some serious street cred by partnering with NatureBox.
NatureBox is also a generous affiliate program, showering you with benefits like competitive commissions and performance-based rewards.
The more you spread the snacking gospel and drive sales, the more scrumptious rewards you'll reap.
It's like winning a snack jackpot every time you make it rain referrals.
NatureBox also takes care of the nitty-gritty logistics, like order processing and customer support, so you can focus on what you do best: spreading the snacking love.
So, if you're ready to embark on a snacking adventure, join NatureBox's affiliate program and become a tastemaker in the world of healthy munching.
It's time to snack like a boss and earn some tasty treats along the way.
MamaSezz Food affiliate program
MamaSezz, a renowned plant-based food company, offers an exceptional affiliate program that stands out from the crowd.
Designed to empower individuals passionate about healthy eating and sustainable living, the MamaSezz food affiliate programs provide a unique opportunity to promote and earn from their delicious, ready-to-eat meals.
Unlike traditional affiliate programs, MamaSezz goes beyond simply rewarding affiliates for sales.
They foster a genuine sense of community and support, connecting like-minded individuals who share a common goal of promoting wholesome nutrition.
Affiliates are not just seen as partners, but as part of the MamaSezz family, working together to inspire positive change in people's lives.
One of the standout features of the MamaSezz food affiliate program is its commitment to quality.
MamaSezz takes great pride in offering high-quality, whole-food, plant-based meals that are free from additives, preservatives, and artificial ingredients.
Affiliates can confidently promote these products, knowing they are contributing to the well-being of their audience and the planet.
The program also offers generous commission rates, providing affiliates with substantial earning potential.
Whether you're a health-conscious influencer, a wellness blogger, or simply someone passionate about sharing the benefits of plant-based eating, the MamaSezz affiliate program offers a reliable income stream while making a positive impact on people's lives.
Moreover, MamaSezz provides its affiliates with a suite of marketing resources, including creative banners, product images, and engaging content.
This enables affiliates to effectively showcase the value of MamaSezz's products and attract their audience's attention.
Beyond the financial rewards, as an affiliate, you also have the opportunity to grow your personal brand and expand your network within the health and wellness industry.
MamaSezz's strong reputation and commitment to customer satisfaction create a solid foundation for you to build trust with your audience and establish yourself as a trusted advocate for healthy eating.
Purple Carrot Food affiliate program
The Purple Carrot food affiliate program is a lucrative opportunity for affiliate marketers who are passionate about promoting healthy, plant-based lifestyles.
With its innovative meal delivery service, Purple Carrot has made a name for itself in the industry by offering delicious, chef-crafted, and entirely plant-based meals.
In this review, we'll delve into the program's key features, benefits, and overall appeal to affiliate marketers.
The Purple Carrot food affiliate programs boast an attractive commission structure that incentivizes affiliate marketers to promote their products.
Affiliates can earn a generous commission on each successful referral they make.
The program provides a fair and transparent system that rewards affiliates for their efforts, making it an enticing option for those seeking to monetize their online platforms.
Purple Carrot's commitment to delivering high-quality, plant-based meals sets it apart from other meal delivery services.
Their meals are carefully curated by experienced chefs and nutritionists, ensuring that customers receive nutritious, delicious, and satisfying dishes.
This dedication to excellence creates a strong selling point for affiliates, as they can confidently promote a product that aligns with health-conscious and environmentally friendly lifestyles.
Purple Carrot understands the value of strong affiliate relationships and offers dedicated support to its affiliates.
The program provides timely and helpful responses to inquiries, ensuring that affiliates have the assistance they need to maximize their marketing efforts.
The support team offers guidance on optimizing campaigns, tracking referrals, and resolving any technical issues that may arise.
Frequently Asked Questions
Are there any costs to join food affiliate programs?
Joining affiliate programs is typically free. However, some may have specific requirements or conditions for participation.
How much can I earn as a food affiliate?
Earnings can vary widely based on the affiliate program, your promotional efforts, and the products you're promoting. Commissions may be a percentage of sales or a fixed amount per lead or sale.
Can I promote multiple food affiliate programs simultaneously?
Yes, many affiliates promote products from multiple programs on their platforms to increase their earning potential.
Conclusion
Butcherbox, alongside the NatureBox affiliate program and all others listed in this review, are some of the best food affiliate programs for influencers or bloggers, that can earn you an extra income.
The best part is that everything you'll need to get started is readily available on each of these sites, ranging from brochures to eye-catching banners and affiliate links.
If you're yet to, you should check out each of these websites, and read through their commission plan to decide which works best for you.
Thanks for reading.