If you're trying to find the best fast-food restaurant near you, this review has the answers.
As a fellow foodie, you'll get to learn how these restaurants are able to operate a 24-hour food delivery service.
You'll also learn how to never miss out on your favorite burgers, fries, and shakes as we outline some of the best restaurants likely to be near you.
Our closing list of some of the best meal delivery services might interest you the most, so keep reading.
What restaurants are considered fast food?
A fast-food restaurant is one that serves food (mostly prepared in advance) to customers either at a counter or via a drive-through facility.
Keep in mind that fast food restaurants are only a type of restaurant as there are many others out there.
This includes fine dining restaurants, cafes, meal trucks, fast-casual restaurants, and so on. 
What fast food restaurants are in Orlando Florida?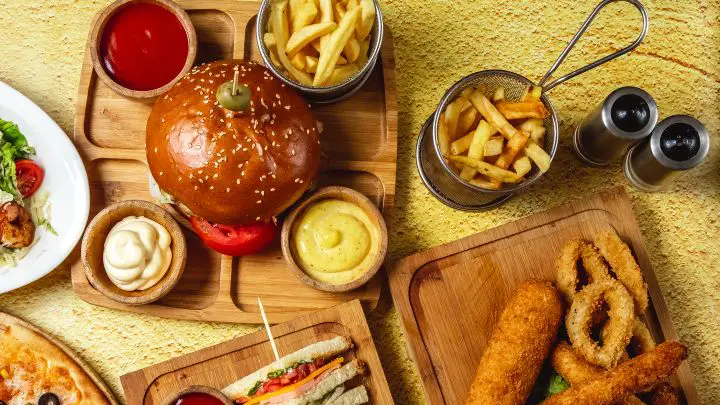 If you're anywhere around Orlando, it's one of the best places to find amazing snacks, treats, and entertainment.
From Disneyland to Chick-fil-A, you're in for the biggest meal and adventure of your life topped with the right flavors.
Here's a list of restaurants that are near you in Orlando, Florida:
Beefy King
Cinnabon
Culver's
Chick-fil-A
Starbucks 
Blaze Pizza
Rivers smokehouse
Mel's drive-in
Pizza Bruno
Shake Shack i-drive
Burger heaven
Krispy Kreme
The Mara
Aloha Isle
Flame tree barbeque
Sleepy Hollow
Pineapple Lanai
Five Guys
Hunger street tacos
Freddy's frozen custard and Steakburgers 
24-hour fast food places near you and how they operate
24-hour fast food restaurants are establishments that remain open round-the-clock, allowing customers to satisfy their cravings at any time of the day or night.
These restaurants cater to people who work late shifts, have irregular schedules, or simply desire a quick meal during odd hours.
Here's a detailed explanation of these establishments and how they operate.
Concept
24-hour fast food restaurants are a variation of traditional fast food chains that extend their operating hours beyond the typical closing time.
Instead of shutting down during late-night hours, these restaurants stay open 24 hours a day, seven days a week, ensuring continuous service to customers.
Availability
Many popular fast-food chains in America offer 24-hour service.
Some prominent examples include McDonald's, Burger King, Taco Bell, Wendy's, and Jack in the Box, among others.
While not all locations of these chains may operate 24/7, it is common to find at least a few in major cities or areas with high foot traffic.
Menu
The menu at 24-hour fast food restaurants generally mirrors that of their regular operating hours.
It typically includes a variety of fast meal options such as hamburgers, cheeseburgers, chicken sandwiches, wraps, salads, French fries, chicken nuggets, tacos, burritos, milkshakes, soft drinks, and desserts.
However, it's worth noting that some locations may have a limited menu during late-night hours due to staffing constraints or other logistical reasons.
Staffing
To ensure continuous service throughout the day and night, 24-hour fast food restaurants employ staff members who work in shifts.
They have a roster of employees who cover various time slots to maintain operations.
During the late-night hours when customer traffic is generally lower, the number of staff members may be reduced compared to peak hours.
Drive-thru and walk-in service:
The primary modes of service at 24-hour fast food restaurants are typically drive-thru and walk-in.
Customers can drive up to the drive-thru window, place their orders through an intercom system, and receive their food without leaving their vehicles.
This allows for quick and convenient service, especially for those in a rush or seeking a late-night snack.
In some outlets, walk-in customers can enter the restaurant and order at the counter like during regular operating hours.
Delivery and online ordering
In recent years, many fast-food chains have expanded their services to include delivery and online ordering.
This means that customers can place their orders through mobile apps or websites and have their meals delivered to their doorstep even during late-night hours.
Delivery services like Uber Eats, DoorDash, and Grubhub often partner with these restaurants to provide 24-hour delivery options.
Safety and security
Given that 24-hour fast food restaurants operate during late-night hours, safety and security measures are crucial.
These establishments often have security systems in place, including surveillance cameras, well-lit parking areas, and security personnel to ensure the safety of both customers and employees.
Additionally, some locations may implement additional safety measures, such as restricted entry during late-night hours or limited cash handling.
In conclusion, 24-hour fast food restaurants in America provide convenient and accessible dining options at all hours of the day or night.
How does Doordash work with fast food?
DoorDash is a San Francisco-based meal ordering and delivery company.
They do not produce foods of their own but rather they send menu prices to restaurants and decide on the service and delivery charge independently.
As a customer, when you place your order for a meal, you'll be required to pay (for the meal alongside a delivery fee, service fee, and small order fee) to Doordash either online or through the app.
After that, you're assigned an estimated delivery time.
The restaurant is notified of your order simultaneously and then goes ahead to process it, and your food is delivered to your doorstep.
Food delivery services near you
If you're trying to find food delivery channels near you, take our advice and go through these recommendations:
Uber Eats: Uber Eats is a widely recognized delivery platform that partners with various restaurants to offer a wide range of cuisines for delivery.
DoorDash: DoorDash is another popular delivery service that partners with local restaurants, allowing you to order from a variety of menus and have the meal delivered to your door.
Grubhub: Grubhub is a well-known delivery service that operates in many cities. It offers a diverse selection of restaurants and cuisines to choose from.
Postmates: Postmates is a delivery platform that not only delivers food but also offers delivery services for groceries, alcohol, and other goods from local stores.
Seamless: Seamless is a delivery service that offers a convenient way to order food from local restaurants and have it delivered to your location.
To find the best food delivery service near you, we recommend checking the availability of these platforms in your area and exploring the options they offer.
You can visit their websites or download their mobile apps to browse the restaurants and cuisines available for delivery.
More related questions
What is the 1 most popular fast food restaurant?
McDonald's. The brand has over 13,000 locations in the U.S. only and several other outlets in various parts of the world.
What is the most popular fast food right now?
Still McDonald's. The brand has rightfully earned its place as a favorite among fast food lovers and it's still the king of fast food.
What are the 2 most popular fast-food restaurants?
Mcdonalds and Starbucks. Both fast-food companies are household names in the U.S. and beyond.
Conclusion
Fast food restaurants are available on almost every corner you turn.
And where you're unable to leave where you are to grab a quick bite, delivery service providers like UberEATS and Doordash are right at your beck and call. 
Thankfully, this guide has shed more light on how to find the best fast food around you and as a foodie, this is the perfect moment to satisfy your cravings.