Are you looking for a refreshing and energizing drink to pair with your meal at Texas Roadhouse? Well, look no further! 
The Texas Roadhouse drink menu has got you covered with all of your favorite beers, wines, and cocktails. 
No need to search any further, this article will give you all the information you need about the unique drinks available at Texas Roadhouse.
So go ahead, take a look and make your drink selection for your next visit.
Brief history of Texas Roadhouse
According to Texas Roadhouse Me, the company was founded in 1993 by W. Kent Taylor in Clarksville, Indiana.
It is a casual dining restaurant chain that focuses on serving steaks. 
The first restaurant was a former steakhouse that Taylor bought and transformed into Texas Roadhouse.
It quickly gained popularity for its large servings and casual atmosphere. 
The chain grew rapidly in the 90s and 2000s, with over 600 locations in the US and abroad by 2021.
To date, Texas Roadhouse is recognized for its outstanding service and the slogan "Legendary Food, Legendary Service".
What is on the Texas roadhouse drink menu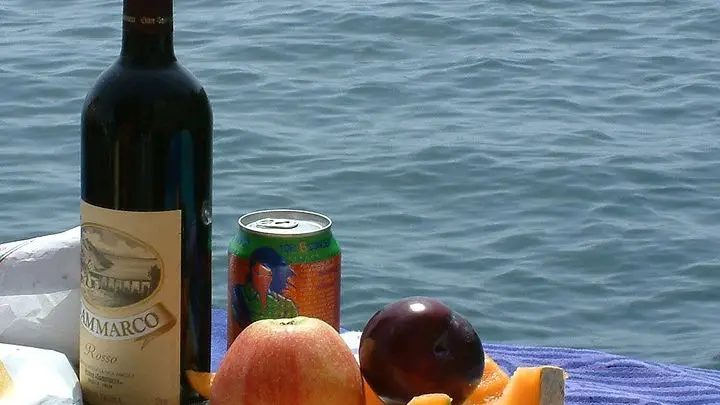 The Texas Roadhouse drink menu includes the following variety of options:
Soft drinks: Coca-Cola, Diet Coke, Sprite, Minute Maid Lemonade, Hi-C.
Flavored Lemonades: Wild Strawberry, Blue Crush, and Red Raspberry.
Coffee and Tea: Regular and decaffeinated coffee, hot tea, and iced tea in different flavors like original, raspberry and peach (Sweet or Unsweet).
Juices: Orange, cranberry, and pineapple.
Beers: Texas Roadhouse offers a wide selection of domestic, import, and craft beers, by draft or bottles.
Wine: Texas Roadhouse offers a variety of red and white wines by the glass or bottle.
Cocktails: Texas Roadhouse offers a selection of classic cocktails such as Margaritas, Kenny's Cooler, Armadillo Punch, Texas Peach Fuzz, Sangria, Jamaican Cowboy, $5 L.I.T, Top Shelf L.I.T.
Texas Roadhouse Margarita varieties
The Texas Roadhouse drink menu offers following variety of margarita options:
1. Hurricane Margarita
2. Original Frozen Margarita
3. Original Rocks Margarita
4. Sangria Margarita
5. Skinny Lime Margarita
What are the most popular items on the Texas Roadhouse drink menu
Texas Roadhouse is well-known for its selection of classic cocktails, cold beers, and wine.
Some of the most well-liked drinks on the menu are:
Roadhouse Margarita — a signature Margarita
Roadhouse Sangria — a combination of wine, fruit, and spirits
Long Island Iced Tea — a traditional cocktail with a blend of different spirits
Whiskey Lemonade — a mix of whiskey, lemonade, and triple sec
Peach Tea — a sweet and fruity iced tea
Blue Hawaiian — a tropical cocktail with rum, blue curacao, pineapple, and coconut cream
Jack Daniel's Grill — a specialty drink with whiskey, ginger ale, and grenadine
Texas Roadhouse drink menu with prices
According to Restaurant to Me, this is the typical price of Texas Roadhouse as of today.
Frozen margarita $6.75
Rocks margarita $6.75
Skinny lime margarita $6.75
Hurricane margarita $6.75
Sangria margarita $6.75
Jamaican Cowboy margarita $6.75
Roadhouse Roadie $5.00
Kenny's Cooler $6.50
Armadillo Punch $6.99
Texas Peach Fuzz $9.99
Coca-Cola $1.99
Diet Coke $1.99
Sprite $1.99
Slow Brewed Iced Tea $1.99
Minute Maid Lemonade $1.99
Raspberry Iced Tea $3.49
Peach Iced Tea $3.49
Wild Strawberry Lemonade $3.49
Blue Crush Lemonade $3.49
Blue Crush Lemonade $3.49
Red Raspberry Lemonade $3.49
Bottled Water $2.99
Is the Texas Roadhouse drink menu expensive?
It depends on the location and what type of drinks you are ordering.
But generally, the prices at Texas Roadhouse for drinks are considered to be reasonable and in line with other casual dining restaurants.
More related questions
Is the Texas Roadhouse drink menu good for you?
The answer is yes.
The drink menu at Texas Roadhouse offers a variety of options including beer, wine, cocktails, soft drinks, and juices. 
Some options such as water, iced tea, and juice can be considered healthy choices.
However, many of the cocktails and mixed drinks served at Texas Roadhouse are high in sugar and calories. 
Does Texas Roadhouse have mojitos?
Yes, Texas Roadhouse does have mojitos on its drink menu.
They come in a variety of flavors like classic, strawberry, and peach which are made with fresh mint, lime juice, and the chosen fruit flavor.
How much alcohol is in a Texas Roadhouse margarita?
It is hard to give a specific measurement of alcohol in a Texas Roadhouse margarita as it can vary depending on location. 
But according to Hunger To Hope, a standard margarita (typically) has 3 ounces of liquid, with 2 to 2.5 ounces being alcohol.
So, a 12 oz margarita from Texas Roadhouse would have about 0.5 oz of alcohol.
What is a kicker in a margarita?
A kicker in a margarita is an extra ingredient added to the traditional recipe.
This ingredient, usually a liqueur or spirit, gives the drink a unique flavor or an extra kick of alcohol. 
Some popular examples of kickers include Grand Marnier, Cointreau, or high-proof spirits like mezcal and absinthe.
Conclusion
The Texas Roadhouse drink menu offers a wide variety of options for customers (around the globe) to choose from.
Whether you're in the mood for a classic cocktail, a cold beer, or a refreshing non-beverage, they have something to suit every taste.
With a selection of signature drinks, as well as popular favorites, there's something for everyone to enjoy